One should enhance the other, and both should be equally and simply enjoyed.
The Gilded Acorn food and beverage philosophy
The Gilded Acorn provides specialness and exclusivity to its guests, much in the same way a squirrel tucks away caches of acorns to be found later and feasted on when the leaves have all fallen and these decadent underground caches are relied upon. A beautifully unique and iconic space for culture and luxury, the Gilded Acorn embodies the soul of a French patisserie. Located in the heart of the historic First National Center, it is the perfect place to indulge in conversation and excellent food.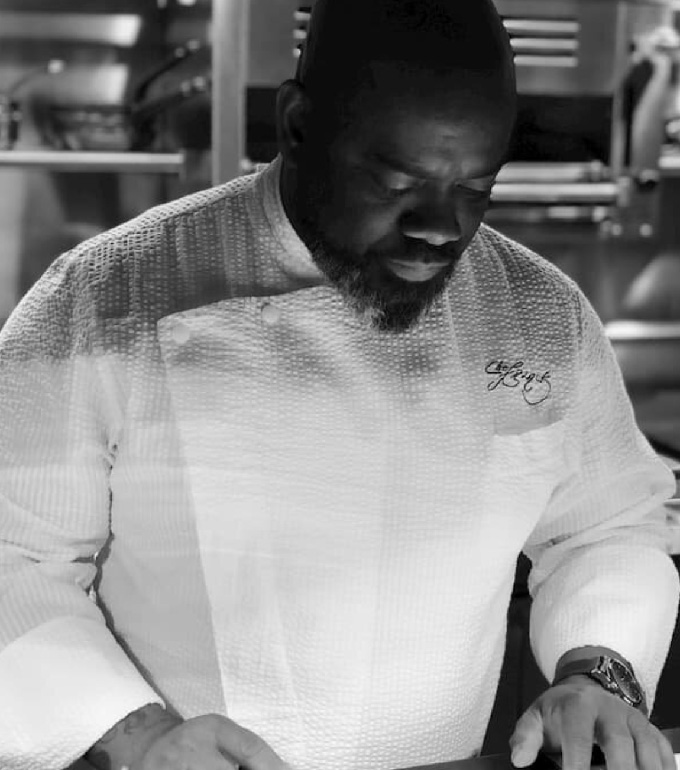 Andrew Black
Executive Chef and Co-Owner
Andrew's passion for food and cooking is evident in the way he challenges traditional rules and lets his creativity run wild. His unique outlook on life and cooking is a result of his island upbringing. A native of Jamaica, Chef Black grew up around constant cooking and fresh food, which sparked his passion to discover the world.
In 2001, Andrew came back to the United States, where he joined The Peabody Hotel Group in Memphis, Tennessee as the Executive Sous Chef. Throughout the years, he has seen success by creating and reinventing new concepts from tavern dining to fine dining. Andrew enjoys the challenge of it all.
Every opportunity should be spent cooking without boundaries or barriers.
– Chef Black
Chef Andrew Black became Co-Founder and Executive Chef for Culinary Edge Concepts in 2017. This triple-restaurant concept consists of three separate restaurant experiences in one space – La Baguette Deep Deuce, Black Walnut, and Grey Sweater. Culinary Edge is pushing the boundaries of the dining experience within Oklahoma City and beyond, and Chef Black could not be more excited to be a part of that revolution. He will open his newest concept, The Gilded Acorn, in February 2022.
His concepts have been featured this year in USA Today, LUXIERE Magazine, OK Magazine, numerous Opentable and YELP highest-rated restaurant articles, and more.
Chef Andrew Black was recently featured on a virtual panel that included writers from Bon Appetite, Travel + Leisure, Cool Hunting, and Hemispheres.